The Paddle Fans Page
This page should help you in determining the best type and location for your paddle fan needs.
As a general rule, the blades of a ceiling fan should not be any lower than seven feet from the floor.
The National Electric Code states that "Outlet boxes shall not be used as the sole support for ceiling-suspended (paddle) fans.
Exception: Boxes listed for the application shall be permitted as the sole means of support. 370-27(a)
If the ceiling you are installing the fan on is a slopped ceiling, an extension will be needed so the blades will not hit the ceiling. Most
fans purchased today will come with about a 4 inch extension.
To see an example press here.
Most fans purchased today will be able to be installed with two height mounting options.
Check to make sure the fan you have has this option if you would like it.
Casablanca and Hunter fans are nice quality fans.
Most fans purchased today have a 3-speed pull chain built into them.
When you purchase your fan, you may want a wall speed control. This will let you control your fans speed from the wall. You should purchase the speed control at the same place you purchase the fan. Some fans require different speed controls to stay quiet. The place where the fan is purchased should carry the correct speed control.
If you are installing a fan on a screened in porch, be sure to purchase a fan designed for outdoor use. The motor is better protected from the moisture and the blades are made of plastic. Wood blades will pick up moisture and become unbalanced and warped.
Press here to view codes on paddle fans over spas and hot tubs.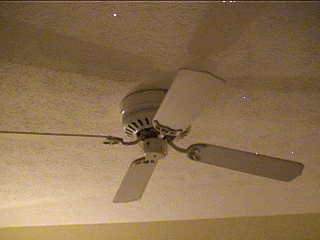 A true ceiling hugger does not have provisions for a pole attachment. These fans provide the closest tolerance from the ceiling to the blades.
I have ran into problems with some ceiling hugger fans that do not move much air. On one occasion, I had a fan that literally moved no air. It was a 52" Casablanca. While holding a match under the fan, the flame did not waver any. This was true on high, medium and low speeds.
Press here to return to the Paddle fan page
or
Use your browsers "back" button