Welcome to the Track Lighting Page
Track lighting is one of the most versatile types of lighting .
Track lighting has many fixture head types.
Track heads can be easily added or removed.
Track heads can rotate about 340 degrees.
Track lighting comes in both line and low voltage systems.
Track lighting comes in both incandescent and fluorescent types.
Track lighting can have multiple controls in the same track.
---
Guidelines and suggestions for track light placement and uses.
Care should be taken in the placement of track lights.
Check the head room due to the fact track lights hang down from the ceiling.
When trying to figure how many fixture heads you will want on your track, always figure the highest number of heads. What I mean by this is if you think at some point in time you may want 9 fixture heads that will have a 75 watt lamp in each head, figure the load for 9 lights. This gives a total of 675 watts. If at first you only use 5-75watt lights (375watts), the circuit and dimmer will be capable of handling the larger load in the future.
Since heads can easily be added, it is easy to overload the circuit, and/or dimmer, and/or track.
Always use the correct fixture head with the correct lamp. Installing a lamp with to high of a wattage rating for the fixture will shorten the fixture and lamp life, not to mention the fire danger that could occur.
Track lights work well for higher ceilings, areas where the furniture layouts change often, highlighting multiple areas in a room, and also if you are unsure of the light output you would like. This is because of the ease of adding fixture heads.
Never try to install track lighting in hopes of covering the entire room. In this situation you will have to point the fixture heads in such a way it would be a glare at some other point of the room. Example
Press here to see picture examples
or
Press here to Return to Track Lighting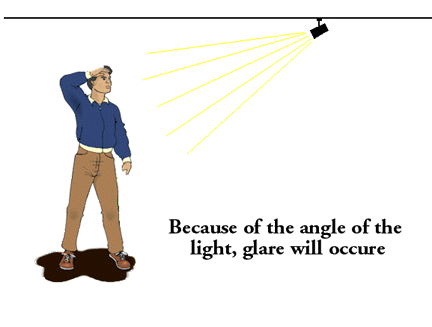 Examples of Track Lighting
Track lighting on an inside
compound angled ceiling

Track lighting on an
enclosed outside porch
Press here to return to the Track Lighting
or
Return to the Main Page